Our second charity is the Second Chances Wildlife center located in Prospect, Kentucky. 
Second Chances is just a few years old, was founded in 2009 on 10 beautiful acres, and was even featured on National Geographic Wild in a 6-episode reality show called "Bandit Patrol!" You can see a clip from one of the episodes below where Brigette takes in an injured Eastern box turtle.
They provide a variety of services for wildlife in the surrounding area including consultations for humane wildlife control and even landscaping consultations to either attract or deter wildlife. They also offer educational programs and rehabilitation and release of sick, injured, or orphaned wildlife. 
They specialize in skunks and bats but are willing to take any other native mammal species from the surrounding area.
See the adorable photo gallery of some of the animals they have released. 
Animals come to Second Chances in many ways; some were caught in traps, dog and cat attacks, car collisions, were shot, and many more human-caused incidents. Thankfully, they are here to help and each year, rehabilitate and release over 100 different animals.
Orphaned animals usually start off in a warm incubator and are fed around the clock by caring staff. As they grow, they are transferred to pre-release enclosures with minimal human contact. Once they graduate from the outdoor enclosures, they are released into protected areas that don't allow any hunting and have known food and water sources to ensure the highest chances of survival. They also go the extra mile and vaccinate and de-worm them to reduce infectious disease in wild populations.
Second Chances probably has the most comprehensive education programs in the Louisville area in regards to native wildlife. From programs dedicated just to opossums, to others focusing on the animals of the night. You get a chance to see these animals up close and learn things about them you never would find anywhere else!
Here's a complete list of their education programs.
It is this extra care that inspired us to donate to this charity. They really are going the extra mile and doing quite well with the systems they have in place. 
The founder of Second Chances, Brigette Williams, has over 20 years of teaching experience and is even a volunteer educator at the Louisville Zoo! 
Here is an excerpt about her from Second Chances' website: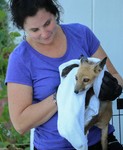 "Brigette Williams is the founder of Second Chances and is a licensed Wildlife Rehabilitator with the Kentucky Department of Fish and Wildlife and Federal Fish and Wildlife. Recently, every volunteer obtained their state permit as well! Second Chances is also licensed by the USDA.
Brigette has over 20 years teaching experience in the private school system. She serves as a volunteer educator at the Louisville Zoo and is a member of the Southeastern Bat Diversity Network.
Brigette feels that it is important to understand our wildlife so we may help protect it and coexist with it. Educating is the key to do just that. In 2010, she was awarded Kentucky Conservation Teacher of the Year."
Meet Brigette as she explains what Second Chances is all about and their mission and vision.
Learn more about Second Chances on their website.